The 2017 Shamrock Bonspiel featured 17 teams from all our club and Sunday rental leagues. The players came decked out in festive costumes and sporting team names from Di O'Bollocks to Séamus on ewe.
After the 4 day round robin ended, eight teams were left to play in the A & B Finals on Friday & Saturday. In a close A division Final, Scott Grafton's rink "Ship O'Fools" came back to steal the game from the Patty's Mac'Hooligans  (Phil and Mark Fajertag – skips) and hoist the trophy for a second year in a row!  In the A Consolation final, The Whiskey Stones, skipped by Trish Dempsey, also came back in the final end to best team Paddy O'Furniture (Mark Romer – skip). The B final saw the O'Harders, skipped by Steve Holdaway defeat the McWatson's (Mark Watson – skip). Lastly, in the B consolation final, The O'Boys skipped by Danny Bell defeated Blarney's Version (Glen Payne – skip).
Congratulations to all participants! For more details on teams and draw results visit the Shamrock Page.
A Final – Patty's Mac'Hooligans (Finalists) & Ship O'Fools (Winners)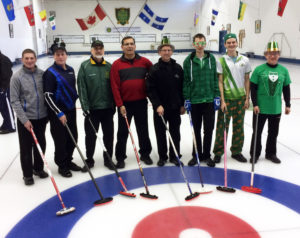 A Consolation – Paddy O'Furniture (Finalists) & The Whiskey Stones (Winners)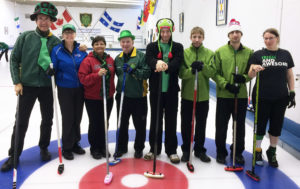 B Final – McWatson's (Finalists) & O'Harders (Winners)
B Consolation – Blarney's Version (Finalists) & The O'Boys (Winners)
and the many other competitors:
---