In what has turned out to be an unusual year at the Grand Match & Grand Dame, our 5 MWCC teams managed a 3-0-2 record. Our women's side fielded the required 2 teams to qualify for the banner and posted a 1-0-1 record with a very strong 13-1 performance by Sophie Belanger's team on home ice. Gloria Toteda's team swept to a tie against Baie d'Urfe in Hudson. After the final count, our women's teams finished 2nd overall out of 15 teams! Congratulations!
Our Men only fielded 3 teams out of the 8 needed to qualify, but managed a 2-0-1 record with strong performances on home ice against Lachine (Team Williams won 15-3) and Hudson legion (Team Botsford won 15-11). Team Philion played to a tie against Baie d'Urfe.
The complete list of results can be viewed HERE.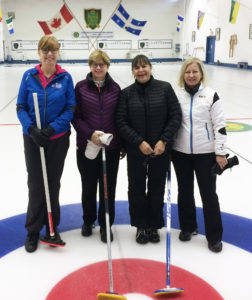 ---