Please note that unlike the past few years, there will only be one Friday Night Schedule this year – the TGIF group is being incorporated into the Wilkinson Mixed curling schedule and anyone that joins Friday night curling will have 2 options :
 Play as a 4-person mixed team (FMFM/MFMF) and be eligible to compete in the Quebec Regional Mixed Competitions or
 Play as a non-mixed team (any combination of M or F players)
Any curlers who are not part of a team will be assigned to a team by Norm Savoie and those teams can play either in the Mixed format or not.
The Wilkinson League is the primary venue for Mixed Competition at the MWCC. The league plays on Friday nights at 6:30 and 8:45pm. Winners of the annual competition are eligible to represent the MWCC in the ARCM Regional Mixed Tournament. For information about the league, contact Jim Doyle at jdoyle@enviromark.ca

2016-17
Congratulations to our 2016-7 Champions Team Philion and to Finalists Team Fagen.
2015-16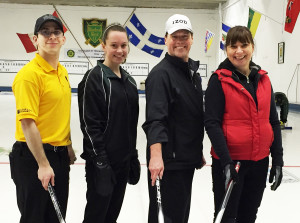 2014-15