We always welcome new members and we curl on Monday, Tuesday and Thursday mornings.
After curling games, we enjoy socializing over a coffee. As well as in-house competitions, we also participate in competitions sponsored by the Ladies' Curling Association (LCA) and outside bonspiels.
We encourage women who enjoy sports and wish to see the winter fly by to come and try out the game. There is no age limit. If you have never curled before, we provide coaching and encouragement.
For further information, please contact Karen at kbear123k@netscape.net.
Competitions & Events
Monday 9:30 am – Queen Bee ladder – played all year
Tuesday 9:30 am – President's and Royal Montreal Round Robins
Thursday 9:30am – Past President's and Maple Leaf Round Robins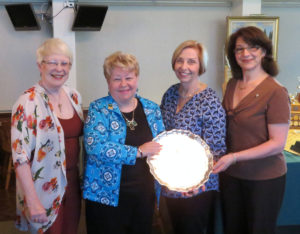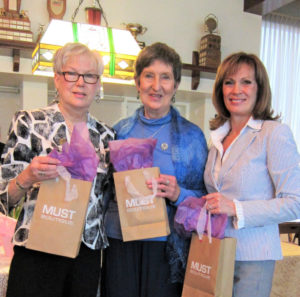 (above) 2016-7 Winners of the Queen Bee & memorial Trophies
The Day Ladies host 5 Luncheon Bridges during the year. We serve sandwiches and desserts. These bridges are open to all members and non-members. The money raised is donated to the Club to help finance improvements.
We also host an informal bridge every Tuesday afternoon starting at 12:30 p.m. This bridge is open to all – new and experienced bridge players.
Whiff 'n Putts
In May, the Day Ladies organize golf for the summer – the Whiff 'n Putts. We play at different golf courses on Tuesdays and Thursdays throughout the summer.
History & Past Events