The Montreal West Curling Club Instructional Group operates on Monday evenings to teach curling to new adult members.  The club provides new curlers with curling equipment for use in the club until they become familiar with the game and decide to purchase some or all of their own equipment. The group is also open to existing members who may join classes to work on improving their technique.
As the season progresses, green curlers begin to spare in other club leagues and also compete in the club competitions (including the Vice President's Funspiel and Shamrock Bonspiel). In the spring, instructional members compete in a singles competition for the Green Singles Trophy.
For more information contact Jim Doyle at 514 481-1128 or jdoyle@enviromark.ca
2016-17
Congratulations to Green singles Champion Gary Rothstein & Finalist Greg Gelgor. This year we also had several new curlers playing in the Day Ladies League. Congratulations to (Day Ladies) Green Singles Champion Carol Sullivan and finalist Sara MacGibbon.
2015-16
Congratulations to John Meredith & Finalist Ellen Meredith.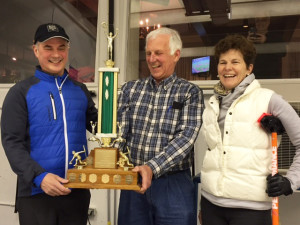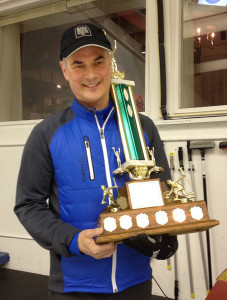 Congratulations to our winner John Meredith & Finalist Ellen Meredith.
2015-16
The 2015 Green Singles Trophy was won by Don McKenzie who defeated Nathalie Trudel in a close game.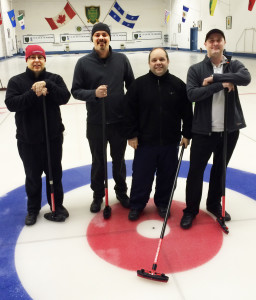 The Green Team competes in the Shamrock Bonspiel (Francois, Brett, Martin, Sean)